---
Grid Project: San Andreas Fault, Community Fault Model
Grid Team Member:
Carl Gable




Grid Versions:
ver01
ver02

ver03

Data Source:
SCEC CFM




Delivered To:
CFEM Community
Jay Parker
Greg Lyzenga
Brad Hager
Charles Williams





Date Completed:
8/1/2007


8/21/2007

---
Purpose of Project
Build a mesh of San Andreas Fault that is appropriate for Pylith or GeoFEST calculation.

San Andreas Fault Finite Element Mesh
Fault definition from SCEC Community Fault Model (CFM)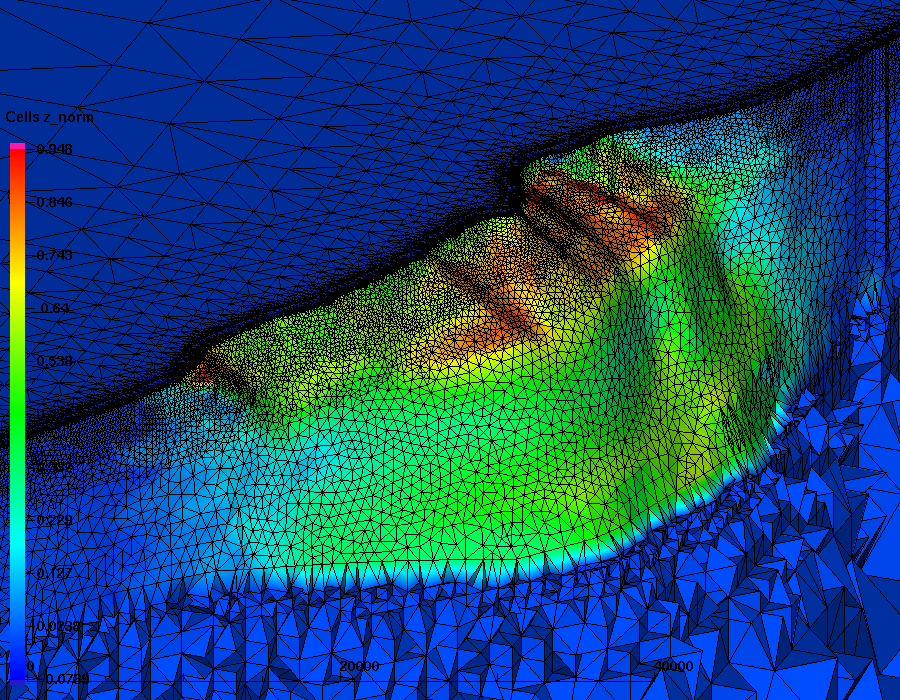 Design Criteria
From Jay Parker:

1) I'm interested in the san andreas as you portray it; the sierra madre fault, and the cucamonga fault. I'm not interested in the san gabriel fault in either the vertical nor dipping flavor, as I assume now that refers to an inactive fault within the mountain range, rather than one of the dipping faults at the front boundary of the range.

2) I think we said to go with a domain as deep as it is wide, and twice as wide (in x and y) as the minimum box that contains the faults. So that might be about 1000x1000x1000. Anything below 100 km can be very large elements, as can anything more than 100 km from (all) the faults; elements 100 km on a side might be good, or even a bit bigger.

3) I think we wanted the domain to have three material layers, so we want a mesh elements marked by some material id number, that indicates in top layer (to the bottom of the faults, maybe 15 km?), the middle (an 18 km layer below that), or the bottom (everything else). Since I aim to do an elastic problem, the thickness of the middle layer isn't critical,
so you can proceed with these values even if I'm not remembering correctly.

4) As we discussed, we expect you to improve (reduce) the complexity of the fault geometry to make it tractable to mesh: your description of that sounds like a good approach. We have no problem with you applying that method liberally: there's not much in our problem of interest likely to depend on detailed geometry. But we do want the faults to be bendy and curvy: it will make interesting stress patterns, and force us to make progress in our methods.

5) we want the fault nodes to be marked or be in a list, and have something like a normal direction defined for each one. I think we decided on a normal that is the average of the adjacent elements, weighted by area; but the method you use probably doesn't matter very much for our purposes.

A thought: We haven't found a limit for size ratios of adjacent elements or element quality that causes our code to choke - we think we are pretty robust in that regard. If your mesh causes a convergence or accuracy problem, of course we will let you know and probably request an improvement. But we don't think you need to aim at high meshing quality standards.

Project Summary
| | | | |
| --- | --- | --- | --- |
| Dimension: | 3D | | |
| Grid Element Type: | Tet | | |
| Grid Software Used: | LaGriT | | |
| | | | |
| | saf_ver01 | saf_ver02 | saf_ver03 |
| Number of Nodes: | 228828 | 376856 | 331137 |
| Number of Elements: | 1285164 | 2122480 | 1863370 |


ver01 : San Andreas Fault, CFM goCad cfma_southern_san_andreas_complete.ts

ver02 : San Andreas, Sierra Madre, Cucamonga Faults cfma_southern_san_andreas_complete.ts(184), cfm_cucamonga_extruded_truncated_at_sa_complete.ts(206), cfm_sierra_madre_extruded_complete.ts(243)

ver03 : San Andreas, Sierra Madre, Cucamonga Faults cfma_southern_san_andreas_complete.ts, cfm_cucamonga_extruded_truncated_at_sa_complete.ts, cfm_sierra_madre_extruded_complete.ts
Take steps to improve mesh quality, output fault node lists with any element that has all four nodes
belonging to a fault removed. Seperate fault node lists into three seperate lists, one for each fault.

General Features: Both have a bounding box:

Top Elevation    = 0
Bottom Elevation = 1000 km
Horizontal 1000km x 1000km
nominal resolution (h) along SAF:
      z <  2.5km   h ~ 250m
2.5 < z <  5.0     h ~ 500m
5.0 < z < 15.0     h ~1000m
Bottom Elevation = 1000 km
nominal resolution (h) along SAF:
      z <  2.5km   h ~ 250m
2.5 < z <  5.0     h ~ 500m
5.0 < z < 15.0     h ~1000m

Bounding box: UTM meters
ATTRIBUTE NAME            MIN           MAX          DIFFERENCE
 xic                  0.00000E+00    1.00000E+06    1.00000E+06
 yic                  3.20000E+06    4.20000E+06    1.00000E+06
 zic                 -1.00000E+06    0.00000E+00    1.00000E+06


Project Archive Location

FEHMN files for saf_ver01 and saf_ver02:

saf_ver01_fault_nodes.pset.gz
saf_ver01.gft.gz
saf_ver01.gmv.gz
saf_ver01.inp.gz
saf_ver01_outside.area.gz
saf_ver01_outside.zone.gz
saf_ver01.table.gz

saf_ver02_fault_nodes.pset.gz
saf_ver02.gft.gz
saf_ver02.gmv.gz
saf_ver02.inp.gz
saf_ver02_outside.area.gz
saf_ver02_outside.zone.gz
saf_ver02.table.gz 

saf_ver03_3flt_no4.gmv.gz
saf_ver03_3flt_no4.inp.gz
saf_ver03_3flt_no4.table.gz
saf_ver03_fault_184_nodes_no4nod.pset.gz
saf_ver03_fault_206_nodes_no4nod.pset.gz
saf_ver03_fault_243_nodes_no4nod.pset.gz
saf_ver03_fault_nodes_no4node.pset.gz
saf_ver03_fault_nodes.pset.gz
saf_ver03.gft.gz
saf_ver03.gmv.gz
saf_ver03_no4.gmv.gz
saf_ver03_no4.inp.gz
saf_ver03_no4.table.gz
saf_ver03_outside.zone.gz
saf_ver03.table.gz




saf_ver03_3flt_no4.gmv.gz  - GMV file of mesh ver03
saf_ver03_3flt_no4.inp.gz  - AVS file of mesh ver03
saf_ver03_3flt_no4.table.gz - Table of normal vector components of fault nodes, x_norm, y_norm, z_norm. Column 5 contains an
                              integer (if_flt) that is 1 if not a fault, 2 if fault 184, 3 if fault 206, 4 if fault 243
saf_ver03_fault_184_nodes_no4nod.pset.gz - node list of fault 184, 4 node elements removed
saf_ver03_fault_206_nodes_no4nod.pset.gz - node list of fault 206, 4 node elements removed
saf_ver03_fault_243_nodes_no4nod.pset.gz - node list of fault 243, 4 node elements removed
saf_ver03_fault_nodes_no4node.pset.gz    - node list of all fault nodes, 4 node elements removed
saf_ver03_fault_nodes.pset.gz            - node list of all fault nodes, 4 node elements NOT removed
saf_ver03.gft.gz                         - geoFEST format mesh file
saf_ver03.gmv.gz                         - GMV format mesh file
saf_ver03_no4.gmv.gz                     - GMV format mesh file
saf_ver03_no4.inp.gz                     - AVS format mesh file
saf_ver03_no4.table.gz                   - Table of normal vector components of fault nodes, x_norm, y_norm, z_norm. Column 5 contains an
                              integer (if_flt) that is 1 if not a fault, 2 if fault , no 4 nodes of a single element
saf_ver03_outside.zone.gz                - zone lists of top,bottom,left,right,front,back nodes
saf_ver03.table.gz                       - Table of normal vector components of faults nodes, but 4 node elements are not removed


Data files: CFM goCad files
/scratch/ymp/gable/grid_gen/crustal_deformation/cfm/cat_cfm30_preferred/all_files_linked/
cfma_southern_san_andreas_complete.ts
cfm_cucamonga_extruded_truncated_at_sa_complete.ts
cfm_sierra_madre_extruded_complete.ts

Work Directory:
/scratch/ymp/gable/grid_gen/crustal_deformation/san_andreas_parker


Images and Project Details

Grid Statistics (under construction)

Grid Methods (under construction)

Gallery of Project Images







---
Grid Team Contacts
| | | |
| --- | --- | --- |
| Carl Gable | gable -at- lanl -dot- gov | 505-665-3533 |
| Terry Miller | tamiller -at- lanl -dot- gov | 505-667-8009 |
---