Tetrahedral Grid Yucca Mountain Unsaturated Zone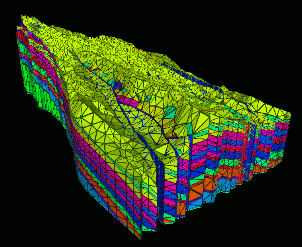 Geologic applications for grids produced with LaGriT are modeling subsurface porous flow and reactive chemical transport by finite element (FEHMN code developed at LANL) and finite difference methods. LaGriT is also used as the first step in quality analysis and manipulation of geometric data.

Projects in which LaGriT is utilized include:

Yucca Mountain Site Characterization Project (YMP)
Nevada Test Site Underground Test Area Flow and Transport Modeling
Southern California Earthquake Center (SCEC) meshing of California Fault Systems
Environmental Restoration at Los Alamos and Savannah River
Oil and Gas Reservoir Modeling
Semiconductor Design Modeling
High Speed Hydrodynamics

There are a wide variety of geological applications where accurate representation of complex engineering systems and geologic structure and stratigraphy is critical to producing accurate numerical models of fluid flow and mass transport. Oil and gas reservoir production, groundwater resource development and waste disposal in a geologic repository are examples of the areas where modeling is used to predict the long term behavior of a system. In all the systems, grid generation is a key link between the geoscientific information systems and numerical models. Grids must capture complex geometry and insure the computationals are optimized to produce accurate and stable solutions. LaGriT is a toolbox library with functions to produce 2D and 3D grids of elements that are tetrahedral, triangular, hexahedral and quadrilaterals. A 3D model of a computational mesh created from the 3D model is shown. 2D grids with arbitrary orientation or 3D grids with complex boundaries can be extracted from the geologic framework model. For more details refer to the Geo Meshing Overview (PDF).